Advanced Physical Therapy is a comprehensive Fresno physical therapy clinic independently owned and operated by Michael Martines, PT, MPT, OCS.
Since our founding in 2007, Advanced Physical Therapy has grown into the premier therapist- owned practice in Central California. In 2013, we expanded our service line, opening a new, state-of-the-art facility in Clovis. Our patient population comes from Fresno, Clovis, and throughout the Central San Joaquin Valley.
Advanced Physical Therapy is home to some of the best, brightest, and most experienced physical therapists in Central California. Our goal is to help you recover from injury or surgery as fast as possible, so you can get back to living.
Our staff is trained in the latest treatment methods and we specialize in post-surgical rehabilitation of the shoulder and knee.
Rehabilitation is a journey no one should have to go alone. If you're looking for an experienced, compassionate, and motivational team to help you along the path to recovery, ask your doctor about Advanced Physical Therapy or contact us today.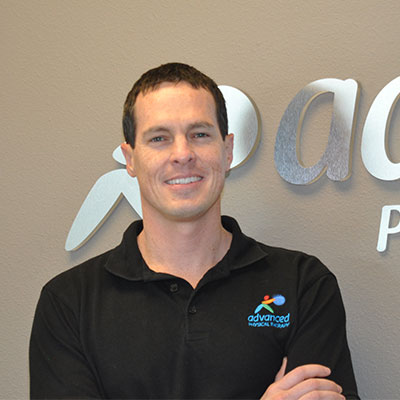 A Message from Our Founder
In 2007, I took a leap faith and created Advanced Physical Therapy. The idea was to create a comfortable, healing environment for patients complete with a research-based rehabilitation center. Our ultimate goal is to help patients achieve optimal functional recovery.
The road to recovery is not always a smooth one, but with our guidance and compassionate care we can get you back to living a full, rewarding and active lifestyle. I am a competitive triathlete and former college athlete. Through the years, I have undergone multiple arthroscopic shoulder and knee procedures. These surgeries, along with the rehabilitation that went with them, provided me with a first-hand knowledge of the patient experience, in turn making me a better physical therapist. At Advanced Physical Therapy, we care about doing all we can to make a positive difference in our patients' lives.
– Michael Martines
Meet Our Team
A team of highly educated, experienced, and compassionate physical therapists.
Michael Martines
Founder | PT, MPT, OCS
Michael Martines is our head physical therapist and owner of Advanced Physical Therapy. He is an orthopedic clinical specialist focusing on the knee, shoulder and spine.
In 2007, Michael founded Advanced Physical Therapy in northwest Fresno with the vision of creating a comfortable environment where patients can heal and achieve optimal functional recovery. Implementing a combination of intensive patient guidance, education and compassionate care, Michael's goal is to help his patients get back to living an active, pain-free lifestyle.
Michael holds a bachelor's degree in health science and a master's degree in physical therapy from California State University, Fresno. He completed the Folsom Long Term Orthopedic Manual Therapy course in 2007. In 2009, he became certified with the American Board of Physical Therapy Specialties, focusing on orthopedic physical therapy. Michael worked as an outpatient physical therapist at Kaiser Permanente prior to establishing Advanced Physical Therapy.
Michael was born and raised in Madera, California. He was a college athlete and remains a competitive triathlete today. Based on his own past personal sport injuries, including multiple arthroscopic shoulder and knee procedures, he is able to understand and empathize with his patients' injuries and rehabilitation. Michael's positive energy and approach to physical therapy is contagious. He motivates both Advanced Physical Therapy staff and patients—creating a healing environment focused on rehabilitation and recovery.
Allison Reynolds
PT, DPT, OTR/L, MOT
Allison was raised in Fresno, CA attending Clovis West High School. She earned her Bachelor's Degree from Biola University in La Mirada, CA in Kinesiology with an emphasis in Pre-Physical Therapy. She then went on to the University of St. Augustine for the Health Sciences where she pursued a dual degree with her Master's in Occupational Therapy and her Doctorate in Physical Therapy.
Through her unique educational experience, Allison completed advanced manual therapy coursework during PT school while being a Lab Assistant for the OT program. Allison's love and devotion for both rehabilitative professions has motivated her to continue learning and growing to provide a holistic approach to rehabilitation.
Since graduation she has worked in education, skilled nursing, home health, and outpatient settings practicing both as a PT and OT. Allison's love for education has continued as a Physical Therapy Clinical Instructor and an Occupational Therapy Fieldwork Educator. She has enjoyed mentoring interns through internship/fieldwork experiences. Allison enjoys baking, training her rescue dog for therapy certification, spending time with friends and family and visiting the California Coast.
Shari Matsuura
Shari Matsuura graduated with her undergraduate degree from California State University, Fresno in 2012 in Interdisciplinary Health and Rehabilitation Science of Pre-Physical Therapy. In 2015, Shari earned a Doctoral degree in Physical Therapy from the University of the Pacific, Stockton. She is passionate about the field of physical therapy and improving people's mobility to improve quality of life and performance. In her free time, Shari enjoys spending time with family and friends, painting, and traveling.
Lanthan Hakanson
Lanthan was born and raised in Fresno, CA, and earned his Bachelor's degree in Interdisciplinary Health & Rehabilitation Sciences from California State University, Fresno in 2013. After graduation, Lanthan continued his education at the University of St. Augustine for Health Sciences where he earned his Doctorate in Physical Therapy in 2016. With the focus of manual therapy at the University of St. Augustine, Lanthan completed advanced manual therapy courses in the evaluation and treatment of the extremities, spine, and sacroiliac joint. Lanthan's passion for physical therapy comes from his lifelong love of participating and competing in sports, working out and helping others to pursue and complete their own goals. He continues to play golf and tennis in his time away from physical therapy and has participated in multiple obstacle course races over the last couple years.
Jared Bradford
Born and raised in Michigan, Jared moved to California in 2020. I graduated from Central Michigan University with a Bachelors in Exercise Science and worked as a Strength and Conditioning Coach for several years before returning to school to pursue my PTA Degree from Finlandia University. I grew up playing rugby and have experience being a physical therapy patient myself, which in part inspired my choice of becoming a PTA. Outside of work, my girlfriend and I love spending our time hiking, backpacking, exploring new restaurants or lounging at home with our two dogs.
Want to join the team?
We are always looking for ambitious people to join our team. If this sounds like you, drop us a line with what you can bring to our team that sets you apart from anyone else.
Job Opportunities